---
ALOE FLEUR DE JOUVENCE RECOVERING NIGHT CREME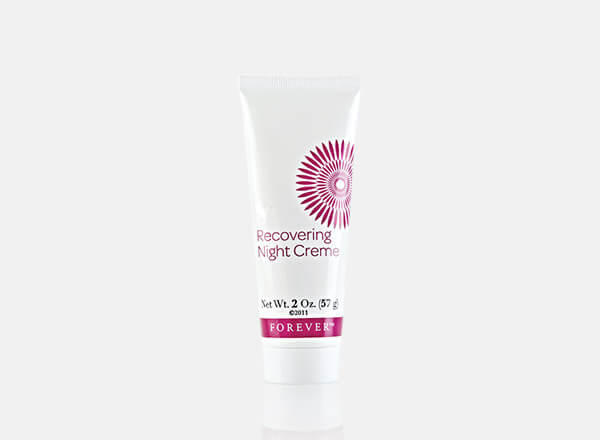 Forever Living Product Code
# 341
Price
$ 17.36
1 fl. oz.
About This Product
- Velvety, rich night cream - Contains vitamins C & E, plus Provitamin B5 - Lipids protect and aid in replenishing skin while we are resting The primary component of Aloe Fleur de Jouvence Recovering Night Creme collection is Recovering Night Creme. The creme contains skin humectants and polysaccharides which form a protective layering against the frequent moisture loss. For the balance of natural oil natural lipids from wheat germ glycerides and apricot kernel oil. The cream also includes the skin enhancers derived from bee product extracts and natural plants. The moisturizers give life to skin and since the product is also designed for the night use, it helps in restoring the youth of skin by making it appear smooth, pliable and firm. The cream is velvety and also restores the fullness of even the finest wrinkle lines keeping your skin's elasticity and balance the moisture.
Directions For Usage
Use fingertips to gently spread over the entire face and throat until a thin, continuous film is applied.
View PDF
Take a peek at the Aloe Fleur de Jouvence Recovering Night Creme