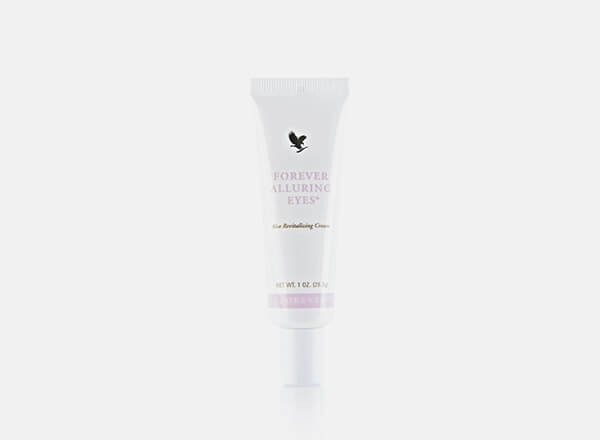 Forever Living Product Code
# 233
Price
$ 17.00
1 oz.
About This Product
- Reduces the appearance of fine lines and wrinkles - Conditions eye area with Vitamin E and moisturizers - Helps to reduce puffiness Forever Alluring Eyes® is a specially formulated revitalising under eye cream which helps in reducing the appearance of fine lines, wrinkles and under eye circles. The cream is enriched with components to improve elasticity and suppleness for highly delicate areas around the eyes. Major ingredients include: Aloe Barbadensis Gel (Stabilized Aloe Vera gel) – nature's original skin soothing agent. Caprylic/Capric Triglyceride – a light, natural emollient from coconut oil, which moisturizes without a heavy, greasy feel. Jojoba Ester – an emollient made from Jojoba Oil. An excellent skin conditioner and moisturizing agent, it provides a fine consistency to the cream. Glycerin – a humectant, it helps the skin maintain moisture. Squalane – a fine emollient, nourishes and conditions without a greasy feel. Helps minimize the appearance of fine lines and dryness of skin. Sodium Hyaluronate – one of the most effective moisturizing agents, due to its highly hydrophilic (water-seeking) properties. It helps improve suppleness and elasticity and minimizes the signs of wrinkles, dark circles and puffiness of the skin. Tocopherol – a good source of Vitamin E, it helps soften and moisturize the skin.Pat on and smooth gently around eye areas.
Directions For Usage
Pat on and smooth gently around eye area.
View PDF