---
FOREVER ALOE BODY CONDITIONING CREME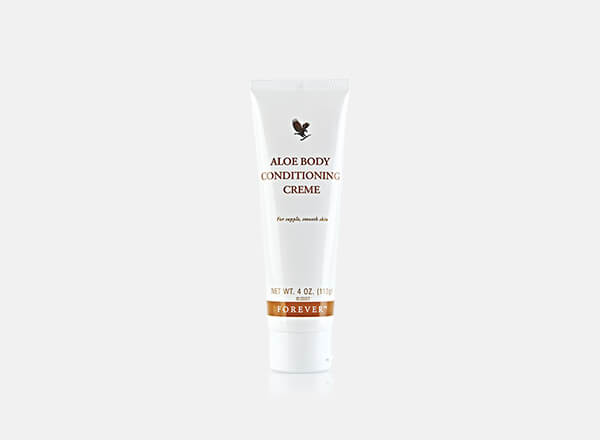 Forever Living Product Code
# 057
Price
$ 30.27
4 oz.
About This Product
- Stimulates circulation beneath the skin, which can help break up trapped fluid and fatty tissue - Helps reduce the appearance of cellulite - Effective massage cream - Non-greasy conditioner Aloe Body Conditioning creme and Aloe Body toner work together to give a smooth and supple feeling to your body. A proper diet, exercise and the right elements of Body Toning Kit can help in getting rid of cellulite. A hormonal imbalance and high levels of estrogen can cause the appearance of cellulite. Even vascular system breakdown can be one of the reasons. (Nutritional supplements to help support the vascular system are Forever CardioHealth, Nature-Min, Absorbent-C, A-Beta- Care). With the use of Aloe Body Conditioning, circulation under the skin gets stimulated. This breaks the trapped cellulite causing fluids and fatty tissues. Aloe Body Conditioning Creme is a thick emollient cream. It is rich in European herbal extracts, emulsifiers, and humectants. These ingredients make it an effective massage cream. It also works as a spot rub for the parts of the body like hip and leg area, which should not be wrapped. It is a non-greasy conditioning cream, and its application after the toning process gives a warm glow to your skin.
Directions For Usage
Use alone or as part of the Aloe Body Toning Kit.
View PDF