---
FOREVER ESSENTIAL OILS - AT DEFENSE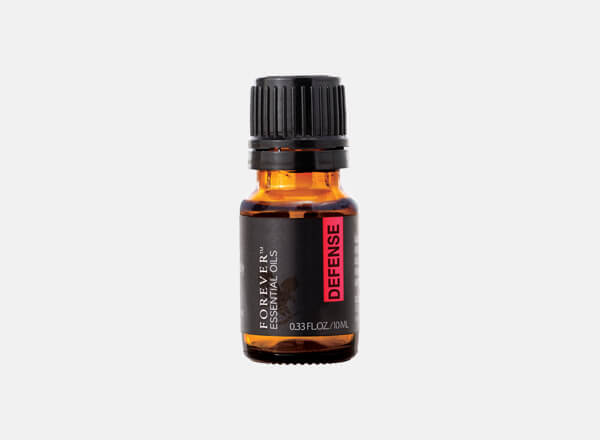 Forever Living Product Code
# 510
Price
$ 27.95
0.33 fl.oz.
About This Product
Forever Living Essential Oil Blends are made to give you the maximum benefits you need to look good and feel refreshed. Each ingredient in Forever Living Essential Oils is selected based on scientific research to give the highest potency and efficacy. Forever Living Defense is formulated with carefully handpicked pure Botanical Oils from India, Nepal, Somalia, Madagascar, Hungary and the United States to give you the best soothing experience. Nature's best handpicked Clove Bud, Orange, Cinnamon Bark, Rosemary, Frankincense, Eucalyptus and Juniper Berry are scientifically blended together to create Forever Essential Oils Defense which will support and enhance the functioning of your immune system. Forever™ Essential Oils Defense - 100% Pure. 100% Strong.
Directions For Usage
Dilute 2 drops in 4 fluid ounces of water or other liquid and mix.
View PDF