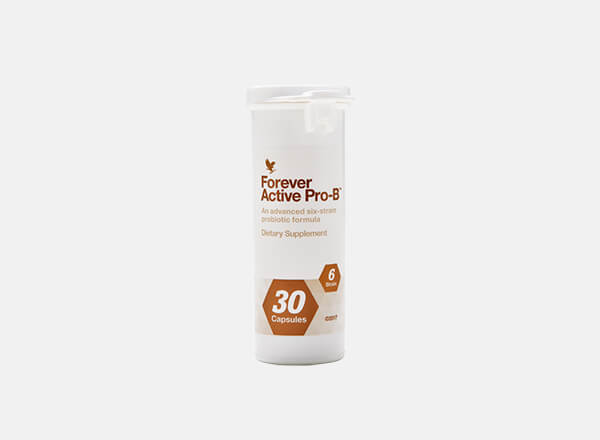 Forever Living Product Code
# 610
Price
$ 31.42
30 Capsules
About This Product
- Promotes a healthy digestive system - Able to bypass stomach acid for optimal delivery within the intestines - Over 8 billion CFU - Strains cryo protected for potency and shelf stability - Soy and allergen-free - Contains 6 synergistic strains including clinically studied Lactobacillus rhamnosus The Forever Active Pro-B works primarily in the intestines where it acts as a catalyst in the metabolism process. This helps in releasing the nutrients for absorption and contributes for a healthy growth and development. It boosts immunity and helps maintain a balanced & healthy digestive system. Forever Active Pro-B includes FloraActive which is a range of beneficial probiotic strains from Copenhagen University Hospital — a leader in the gastroenterology field. Using a proprietary blend of 6 different strains, the formula provides over 8 billion CFU per dose. This formula also includes a prebiotic fiber to sustain the probiotics during storage, transport and delivery to the gut. Prebiotics provide the ideal environment for the probiotic to function and thrive. As probiotics themselves are quite fragile, Forever Active Pro-B uses an exclusive, cryo protection technology that protects the probiotics during manufacture and throughout shelf-life. The strains in the formula have been selected and engineered to have high resistance to stomach acid and bile salts allowing them to reach the intestine. Clinical studies have shown these strains have a greater ability to colonize and proliferate and survive the passage of the GI Tract. But, that's not all. Forever Active Pro-B is a vegetarian capsule packaged in a unique vial that uses Active Vial Technology. This new packaging includes an engineered desiccant sleeve built into the bottle to control moisture absorption and protect the probiotics throughout their shelf-life. Try Forever Active Pro-B in tandem with our patented aloe vera, which acts as a prebiotic. Whether your goal is to promote a healthy digestive system or enhance nutrient absorption and immune function, add this product by Forever Living to your daily supplement program.
Directions For Usage
Take one capsule daily with water. Take one capsule daily with water.
View PDF