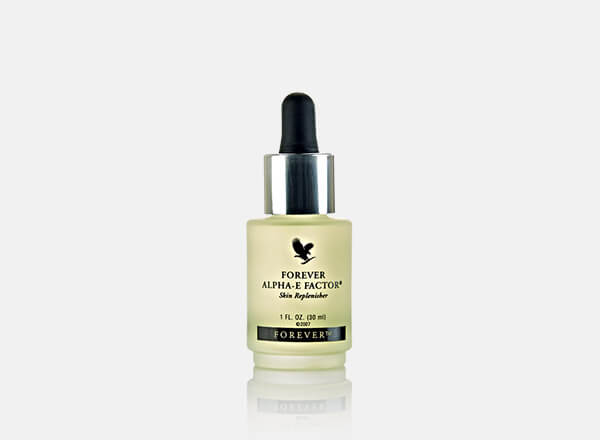 Forever Living Product Code
# 187
Price
$23.40
1 fl. oz.
About This Product
- Superb combination of powerful antioxidants - Enhances elasticity - Normalizes and balances dry skin - Suitable for even the most sensitive skin - Ideal for almost every situation that requires topical application of natural antioxidants Our special skin replenishing agent Forever Alpha-E Factor®, contains naturally rich ingredients to enhance your skin like never before. It helps in moisturizing your skin from within and deliver an immensely smooth and younger looking appearance. The emollient fluid is a light formula enriched with Vitamin C, The emollient fluid is a light formula enriched with Vitamin C, A and E along with Borage and Bisabolol oil. It's an antioxidant fluid which is specially designed to fight against the free radical damage which leads to 80% of damage to our skin. The foundation of Alpha E Factor is our pure stabilized Aloe Vera gel with all the benefits. These special ingredients are uniquely combined into one product: • Vitamin E (as Tocopherol and Tocopheryl Acetate) – an antioxidant that combats free radical damage, softens and moisturizes. • Vitamin A (as Retinyl Palmitate) – a powerful antioxidant which enhances elasticity while moisturising and reducing scaliness. • Vitamin C (as Ascorbyl Palmitate) – an antioxidant which enhances elasticity. Also, helps inhibit the formation of scar tissue. • Lecithin – an excellent emollient which improves the suppleness of the skin. • Borage Seed Oil – provides the skin with gamma linoleic acid (an essential fatty acid) which helps restore moisture. • Bisabolol – a natural, soothing ingredient with a light citrus aroma, suitable for even sensitive skin. • Caprylic/Capric Triglyceride – a natural emollient from coconut oil which moisturizes without the heavy, greasy feel of other oils. • Soybean Oil – A texture-enhancing moisturizer with antioxidant properties When these ingredients are combined in their purest humectants form and emulsifiers it ends up creating one of the most versatile skin care products ever introduced! Please note that colors may vary on your screen. For more accuracy on the color selection, please view our Sonya Colour Collection Brochure
Directions For Usage
With the dropper, apply a couple of drops to face or neck, then blend gently with your fingertips. For maximum results, apply Forever Alpha-E Factor® and Forever Alluring Eyes, followed by R3 Factor® and Recovering Night Creme or Firming Foundation Lotion.
View PDF