---
FOREVER FIRMING AWAKENING EYE CREAM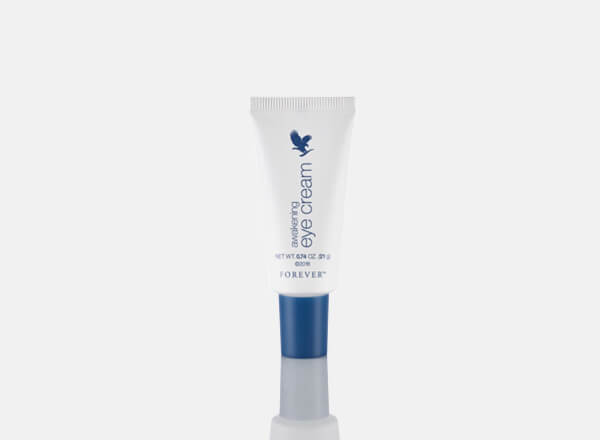 Forever Living Product Code
# 561
Price
$ 15.63
0.74 fl. oz.
About This Product
– Diminishes the appearance of puffiness and dark circles – Significantly reduces the appearance of wrinkles – Eyes appear more fresh, alert and rejuvenated The Patented natural ingredients in the Forever Awakening Eye Cream uses the peptide technology to improve and smooth the sensitive eye area. This visibly reduces the appearance of lines, wrinkles as well as dark circles. The Forever Awakening Eye Cream also contains a unique ingredient called Butylene Glycol. This incredible ingredient is proven to reduce the appearance of eye puffiness and dark circles in less than 15 days! Albizia Julibrissin Bark Extract with Darutoside is amongst the first of its kind to have shown a lifting action on the sagging upper eyelid. Hence, this powerful combination of natural ingredients addresses both the upper eyelid as well as the delicate skin around the eye to create a total eye perking experience. The Forever Awakening eye cream blurs the look of wrinkles and fades the appearance of dark circles. This powerhouse is a perfect addition to your skincare routine and will allow your beauty to shine as gorgeously as you are.
Directions For Usage
Using your finger, gently dab a moderate amount below and around the eye area. Caution: Avoid contact with eyes. In case of an eye irritation, rinse thoroughly with water. If irritation persists, discontinue the use and consult a physician.
View PDF