---
FOREVER CARDIOHEALTH with CoQ10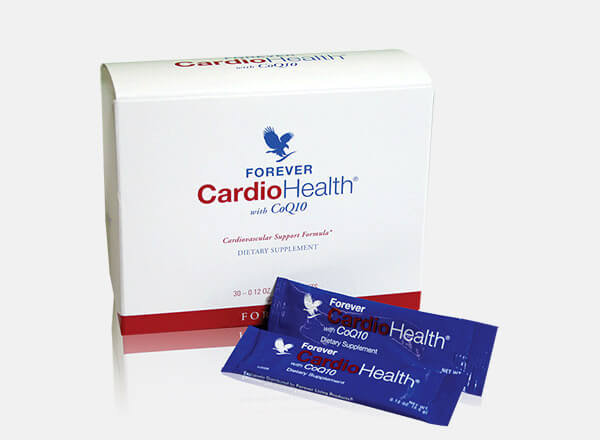 Forever Living Product Code
# 312
Price
$ 28.51
30 packets
About This Product
- Designed to mix with Forever Aloe Vera Gel - Provides CoQ10, necessary for basic cell functions - Contains heart-healthy herbal extracts, minerals, lecithin and antioxidant vitamins Forever Cardiohealth with CoQ10 takes care of three important nutritional supports for cardiovascular health. It helps healthy homocysteine levels and supplies co-enzyme Q10 to promote efficient metabolism. It also provides heart-healthy antioxidants. It is a special formula which will mix perfectly with our Forever Aloe Vera gel. All you need to do is pour, stir and drink. The regular use of this special formula will keep your heart healthy. The human body produces the CoQ10 enzyme which helps in basic functioning of cells, including heart cells and the blood vessels. With age, the human body stops producing CoQ10 when it is most required. At such time when we need an extra supply of CoQ10, Forever Cardiohealth with CoQ10 act as a right source. Another benefit of Forever Cardiohealth is to maintain healthy homocysteine levels in the blood. Vitamin B6, B12, and Folic Acid maintain the healthy lower range of homocysteine levels. This promotes a healthy heart and blood vessel functioning. Forever CardioHealth also contains Grape Seed, Turmeric, Boswellia, and Olive Leaf. These herbal extracts are beneficial for cardiovascular support. For blood vessel lubrication and fat mobilization, magnesium and chromium plus lecithin are present. To make it more effective, we have also added powerful antioxidant vitamins C and E. Forever Cardiohealth has everything needed to support a healthy heart. Adding it with Forever Aloe Vera Gel makes it more beneficial. Such healthy drink makes your heart young and healthy so you can live with no worries.
Directions For Usage
Thoroughly mix contents of packet per day with 4 fl. oz. (118ml) of Forever Aloe Vera Gel (or other beverage) and drink.
View PDF