---
FOREVER LITE ULTRA WITH AMINOTEIN - CHOCOLATE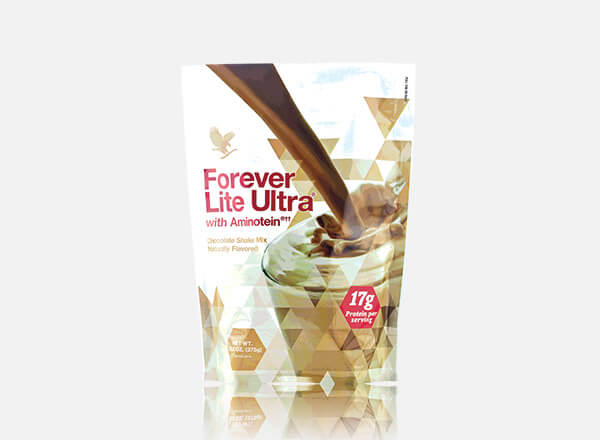 Forever Living Product Code
# 471
Price
$ 26.16
About This Product
– 18 important amino acids – Essential, non-essential and the branched-chain amino acids Add Forever Lite Ultra with Aminotein into your healthy lifestyle. Integrated with new technology and thinking, it will help maintain a healthy lifestyle and diet. Prepare with skimmed milk as per the directions and drink twice a day. It is enough to supply you with 100% of the Reference Daily Intake (RDI) for the vitamins and minerals. For Forever's Clean 9 and FIT Programs, Forever Lite Ultra is an important part. Get back on the path towards an effective and sustained weight management with Forever Lite Ultra. Chocolate Ingredients: Soy Protein Isolate, Natural Chocolate Flavor, Cocoa Powder, Fructose, Dicalcium Phosphate, Fructooligosaccharides, Guar Gum, Aminogen®* (Patented Protease Blend), Safflower Oil, Soy Lecithin, Sucralose, Ascorbic Acid, D-Alpha- Tocopheryl Acetate, Disodium Phosphate, Biotin, Niacinamide, Beta- Carotene, Vitamin A Palmitate, Zinc Oxide, D-Calcium Pantothenate, Potassium Iodide, Vitamin D3, Pyridoxine Hydrochloride, Brewer's Yeast, Thiamine Hydrochloride, Riboflavin, Chromium Chloride, Folic Acid, Cyanocobalamin, Spirulina, Sodium Selenite.
Directions For Usage
Blend or mix 1 level scoop with 10 fluid ounces of skim milk. (Use scoop provided.) For a special treat, mix with crushed ice or fruit. Shake can before each use.
View PDF