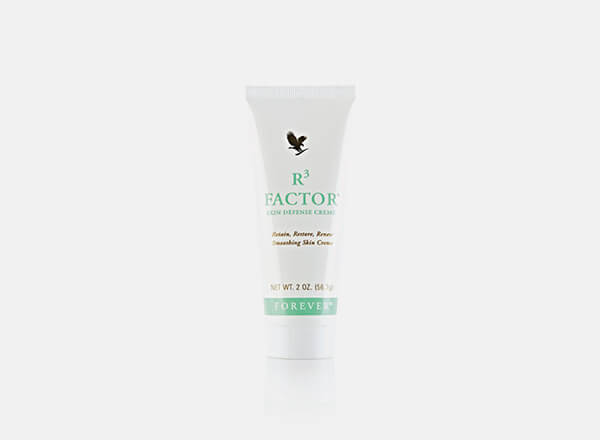 Forever Living Product Code
# 343
Price
$ 26.73
2 fl. oz.
About This Product
-Helps maintain healthy skin color, texture and feel - Retains, Restores and Renews your skin Forever R³ factor works on three main Rs: Resilience, Restore and Renew. It's a defense creme with a rich combination of soluble collagen, stabilized Aloe Vera gel\ and alpha hydroxy acids which are vital for healthy skin. The cream also contains Vitamin E which is a powerful antioxidant and Vitamin A which is beneficial for clearing many skin related conditions. Alpha Hydroxy Acids (AHAs) which are also called Fruit Acids come from the natural plant sources. In combined state, these acids act as exfoliants and remove dead skin cells. The dead cells create a barrier for moisturizing creams, so it's important to get rid of these cells and allow the fresh cell to get exposed to the complete renewal process. As we know, it takes 21-28 days for the complete skin renewal process and to realize the benefits of the R3 factor. For almost a decade, the fruit acid creams are regarded as the most important component of skin care agents. When the soothing Aloe is combined with AHAs, R3 Factor Skin Defense Creme works as the first line of defense to fight against the harsh effect of daily wear and tear and preserve the skin's appearance.
Directions For Usage
After cleansing, apply to face, neck and other areas where needed. For best results, use both morning and night. May be followed by Firming Foundation Lotion and/or makeup or by Recovering Night Creme at night, if desired. (See section on Aloe Fleur de Jouvence).
View PDF