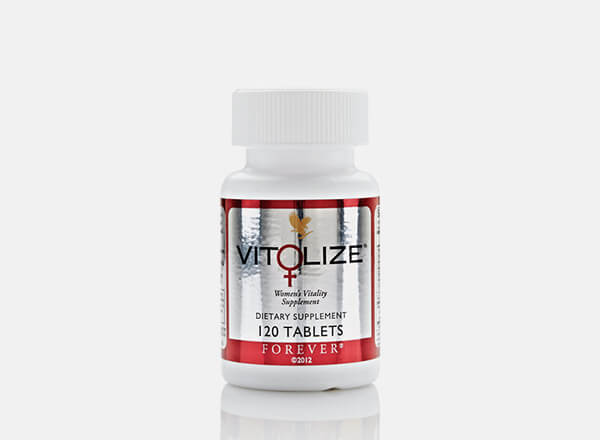 Forever Living Product Code
# 375
Price
$ 27.24
120 tablets
About This Product
- Proprietary botanical blend including apple powder, passionflower, and schizandra berry. - Promotes hormone balance to help you feel yourself at all times. - Specifically designed with a woman's needs in mind Patented, clinically proven cranberry powder. Sudden hormonal changes and additional nutritional demands in women may lead to certain problems. Discomfort due to PMS, menopause, or urinary tract infection are some of the examples. To overcome these problems, Vitalize Women's Vitality Supplement is specially made for women. Forever Vitalize Women's is a natural blend of antioxidant-rich fruits, herbs, vitamins, and minerals. Proprietary Botanical Blend The Proprietary blend of Vitalize has apple powder, passionflower, and schizandra berry. Since centuries people are using these botanicals extracts for the hormonal balance. These botanicals are combined with the clinically tested cranberry fruit powder. This cranberry powder is made through a proprietary process which intensifies the natural benefits. This unique cranberry incorporates a patented technology. It delivers nutrients to the lower gastrointestinal tract where they are absorbed through a time-released mechanism. Exclusive Nutrient Blend The Blend of Vitalize Women balances and supports women's health and hormone balance. Magnesium, vitamin C, and B are essential for hormonal production. The common medicines like birth control and hormone replacement therapies reduce the nutrient level in the body. Vitalize helps women to recover these vitamins. In Vitalize, patented forms of iron and calcium are also present. These two minerals are important for women's cardiovascular and bone health. A perfect balance of all these nutrients supports overall health in women.
Directions For Usage
Take two tablets twice daily as a dietary supplement.
View PDF