---
INFINITE BY FOREVER FIRMING SERUM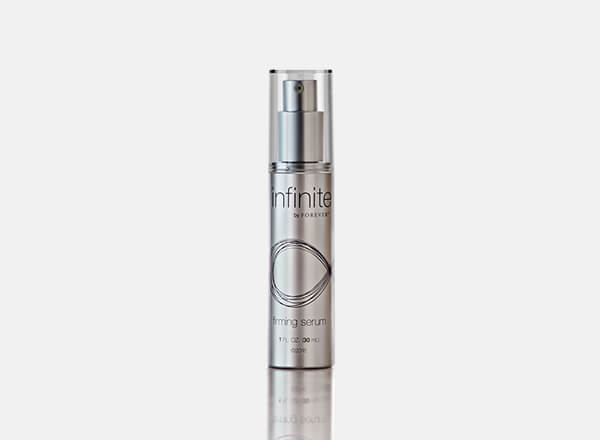 Forever Living Product Code
# 555
Price
$ 44.45
1 fl. oz.
About This Product
Firming serum targets aging from the outside in featuring one of skin science's most exciting breakthroughs! Firming serum enhances the power of Aloe with trifluoracetyl tripepetide-2, a three-amino acid peptide that mimics the natural process of skin to increase the appearance of firmness and to reduce the appearance of fine lines and wrinkles. That ingredient alone could be its own product, but we didn't stop there. Paired with hydrolyzed sodium hyaluronate, a natural humectant, to support moisture and skin conditioners, firming serum is scientifically formulated so that Aloe achieves its optimal benefits to soothe and smooth skin. Yeast extract helps support collagen synthesis and natural skin defenses to reduce the appearance of uneven skin tone while whey protein revitalizes the skin by increasing skin's smoothness, firmness and thickness. Sodium cocoyl glycinate, derived from coconut and the amino acid glycine, is a mild, natural, moisturizing surfactant that is both hypoallergenic and non-irritating, leaving skin feeling soft without drying. Phytic acid, a naturally derived ingredient from rice, helps boost the effectiveness of antioxidants and is a free-radical scavenger itself. Sunflower seed oil, rich in linoleic acid and Vitamin E, breaks down dirt and debris, helping to rinse it gently from the skin.
Directions For Usage
This stacked formula is a skin scientists' dream bolstered with the power of nature and the most advanced laboratory findings to help you look and feel your best.
View PDF