---
SONYA SOOTHING GEL MOISTURIZER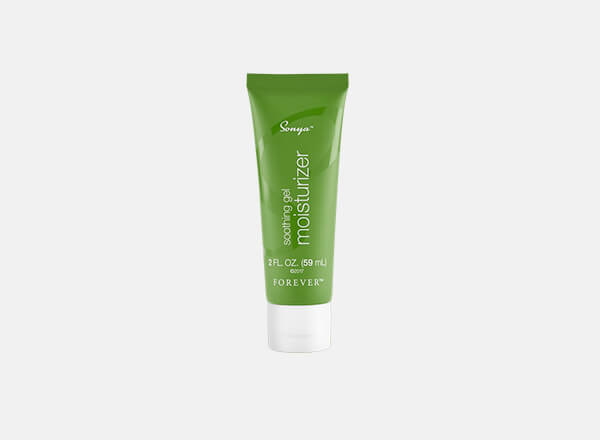 Forever Living Product Code
# 608
Price
$ 21.99
About This Product
– Collagen to improve the appearance of skin - Over 10 natural plant extracts and oils – A hydra-infused moisture carrier The Sonya Soothing Gel Moisturizer looks like a lotion, but this gel based formula melts into your skin. It is made using over 10 natural plant extracts and oils, including jojoba esters and olive oil which help the skin stay hydrated and supple. Beta-glucagon extracted from mushrooms has also been added to this unique formula to soothe the skin and even the skin tone. Various anti-aging ingredients like linoleic acid and scientifically advanced hydrolyzed collagen have also been added for a soothing penetration into the skin. The phytic acid present in the formula acts a powerful support for combination skin which helps in improving the look of your complexion. Orange peel oil, mandarin orange peel oil, roman chamomile flower oil, geranium flower oil and bergamot fruit oil have been added to the formula to leave the skin feeling refreshed and healthy – making this your ideal all-around daily moisturizer.
Directions For Usage
Gently massage into skin on face and neck twice a day in the morning and evening, except when using the refining gel mask. Use as part of the Sonya Daily Skincare System for optimal results.
View PDF